Registered yoga alliance school
Kindred YOGA NELSON is all about care, authentic relationships and excellent yoga classes
We offer daily yoga classes for individuals of all abilities and tastes. Such as Vinyasa flow, Hatha, Yin, Restorative, Flow, Bliss, Teen, Pregnancy and Mums & bubs.
Mindfully designed level 1 and 2 Yoga Alliance International Certified and Accredited programmes. Created to balance intensity and integration. Learn more:
Nia is a sensory-based movement practice combining simple dance moves with martial arts and healing arts to provide a total body workout that includes your mind, emotions and spirit.
With nearly 28 years of experience practising meditation Chai expertly leads an 8-week meditation and pranayama course, covering a different mindfulness technique each week.
Bodywork sessions draw on therapeutic and deep tissue massage and energy therapy such as Reiki. It's ideal for people suffering from recent injuries or for those who have experienced chronic long-term pain.
There may be no better natural medicine
Beach yoga classes are a slow-paced Hatha practice, bringing movement to the 13 joints, followed by standing, balancing, and stretching postures finished with mindfulness. Everybody is welcome, from all backgrounds, levels of fitness, ability, age and experience.
Saturday and Sunday
8:00 am to 9:10 am
6 Nov through to April
Tahunanui beach, in from the skate ramp opposite the rugby field
Price $5 / Free for members on Saturdays
20% of all donations go towards Kindred's yoga teacher training scholarship.
Pay it forward
Our koha classes are taught by Kindred yoga teacher graduates. Donations go towards Kindred's training scholarship programme which helps to make yoga training available to individuals seeking to deepen their yoga practice and teach yoga regardless of their financial situation.
Fridays
5:30 to 6:30 pm
You might be interested to know where your donations go and the ripple effect of your support.
**SPECIAL PROMOTION**
INTRO PASS, 21 DAYS UNLIMITED
$49
21 days of unlimited yoga and Nia classes. Get a feel for the studio, try our varied classes and meet an amazing range of teachers—valid 21 days from the date of your first visit.
*Discounted membership of $89/month is available for students who sign up after completing the $49 intro offer.
MEMBERSHIPS
ROLLING MONTHLY
UNLIMITED MEMBERSHIP
$99/MONTH* 
All the benefits of the annual unlimited membership, allowing you to spread the cost through monthly direct debit payments. Gives you access to unlimited yoga and Nia classes including our virtual classes. 
12 MONTH UNLIMITED
MEMBERSHIP
$1100 
Unlimited access to all of our regular and virtual scheduled classes. Allows you to experience the best of what Kindred has to offer, all year long!
PASSES
TEN CARD $150
FIVE CARD $85
CASUAL $19
MONTH UNLIMITED $150*
*No contract
SUNRISE MONTH UNLIMITED $69*
*No contract
Sunrise classes are offered at 6:30 am every Monday, Tuesday, Wednesday and Thursday morning. Please be aware this pass does not give you access to other classes on the schedule.
VIRTUAL MEMBERSHIPS & PASSES
VIRTUAL MONTH UNLIMITED $29
Our rolling monthly membership gives you access to our full online schedule.
VIRTUAL FIVE CARD $39
Gives you access to any 5 regular classes. Valid for two months from the first visit.
VIRTUAL CASUAL $10
Gives you access to 1 regular virtual yoga class.
What our Kindred community is saying
I loved every minute of my 200 hr Yoga teacher training at Kindred studio in Nelson. The programme content is varied and comprehensive. Chai's depth of knowledge, insight and congruent engagement allowed for a deep connection to learning the 8 limbs of yoga,  the asanas, anatomy, and Myself. It is easy to be inspired by Chai's enthusiasm. The day to day running of the course was friendly, informative and well structured. We were given a chance to develop beautiful friendships with the other attendees, and watching each other's journey has been inspiring and wonderful.
I have found the post-training support to be invaluable to my continued journey. For me, the course was not the end or completion of a dream - it was the beginning of it, and I'm grateful for the follow on presence that Chai and the other teachers continue to offer. Kindred does more than teach yoga. It is a place where knowledge, friendship, and support come together to build a beautiful community, with acceptance, encouragement, and knowledge sharing at its centre.
I would highly recommend the course to anyone wondering about their Yoga Teacher training.
S Marriott
Chai is an inspiring and dedicated yoga teacher. He has an amazing knowledge of anatomy and how each person can relate to yoga. He manages to motivate and entertain and his classes are full of laughter. As well as laughter and knowledge he has amazing energy and is able to induce a sense of calm and relaxation that leaves you floating away from a yoga class. One of the best yoga teachers that I have ever met in over 10 years of practice.
When I'm asked about Chai's teaching, the words that come to mind are knowledge, depth of experience, and integrity.
Chai is known and respected throughout the yoga community and he is a founding board member of Yoga New Zealand where he continues to support and promote the professional development and integrity of yoga in New Zealand – he walks the talk. He has a phenomenal knowledge of functional anatomy and is constantly increasing and sharing this in classes and on the teacher training courses.  Chai has the canny ability to make anatomy understandable and interesting.
Having undertaken my Level 1 teacher training at Kindred, then worked alongside Chaitanya in the studio and on subsequent Level 1 teacher training, Chai holds the space with strength and compassion as trainees navigate the path to completion.  I have grown as a teacher and human being during that time under the guidance of Chaitanya. Being part of the Kindred family has been life-changing! 
Rose Middleton
Where to find us - head through the car park to the left, we are at the back of the building
Download our App for easy and fast bookings of classes, massages, courses, special events and promotions.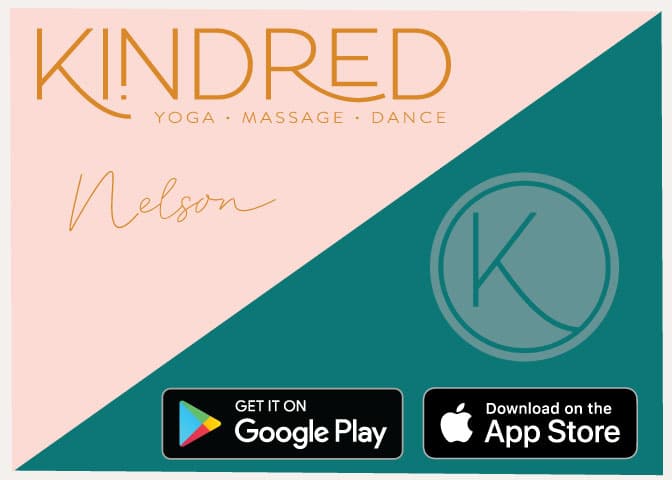 POSTPONED TBC
SATURDAY 4 DEC
4:30 - 7 PM
Cacao and chocolate workshop
Join Oonagh on a magical, nourishing, loving, joyful and inspirational workshop like no other!
Learn of the power of cacao as a mindful and uplifting daily food. Spend time with yourself on the inside and listen to your own unique voice. Be spoilt with an abundance of decadence and love. Leave feeling rejuvintated!
SUNDAY 28 NOV
12-2 PM
A Somatic Movement Practice
Qoya is a movement practice that encourages women to focus less on what their movement looks like and instead focus on how it feels. Qoya classes are based on the idea that through movement, we remember. We remember our essence as wise, wild and free.
The practise will be guided Tawny Sterios a mother, a yoga teacher, yoga teacher trainer, a Qoya dancer, a labour and postpartum doula, a circle and retreat guide and nature enthusiast. Tawny has been sitting in circle with women for the past 15 years, where women hold sacred space for the unfolding of life and the quiet inner knowing that bond us.
Learn more
TUES 21 DEC
7:30 PM
Fundraising silent disco. Dance in the light of the sunset on the longest day of the year!
Meeting in the Botanics Park we will walk up to the field up top (where the lantern parade used to end) and have a silent disco experience as we watch the sunset from the best spot in Nelson for amazing views.
Open to everyone. Spaces are limited, registration is required. Koha for funds towards Bex's horse health fund (who is currently in recovery from laminitis)
Please note this event is weather dependant- those registered will receive a confirmation on the day. Koha will be collected at the event.